Reading Time:
13
minutes
Following is a blog prepared by taking the discussion CEVians had on 09 Sept 2019 as foundation and motivation.
The topic of discussion was "CURRENT STATUS OF INDIAN ECONOMY".
If you are in a hurry and at any rate dont have time to cudgel your brain to understand this gigantic scenario then you are at the right place, just keep plugged. CEVs editing team do consider the people with big dreams that don't have much time to know the affairs out of their domain. Just like you, we understand how critical it is -to know these things in an individual's life and also -to determine your role as a participant of the Earth's largest democracy.
So let's begin with some numbers just to get all the readers on the same page. 
SOME CRUCIAL NUMBERS AND FIGURES:
The GDP (Gross Domestic Product) of India bars at $2.972 trillion with a growth rate of 5.0% in April – June quarter, the first quarter of the fiscal year 2019-20.

In 2019 India slips to 7th largest economies from the 5th rank in 2018. 

India slips to 7th position from the world's fastest-growing economy in 2018.

Unemployment rate is at 7.91% in June 2019.  

Five of the seven key sectors are witnessing slowdown or creeping growth rate:

Automobile sector is at a negative growth rate of -30.9%.

Textile grows at nominal 1.66% rate

Agriculture sector shrunk by 0.3%

Manufacturing is growing at 1.2%

Mining sector has a growth rate of 1.6%

Power generation, however, grew at a good rate of 8.2%.

Real Estate's unsold inventory stands at 42 months, the healthy number is 8-10 months. The number of unsold houses has increased from 1.20 M in 2018 to 1.28 M in 2019, a seven per cent rise.
FMCG (Fast-moving consumer goods) companies like Hindustan Unilever, Patanjali, Britannia, Asian paints, Dabur India all of them dropped volume growth from double digits to a mere single digit.
The PFC (Private Final Consumption) is at dead low at 3.1%, which hung at healthy 7.2% in the previous quarter.

The new project announced including the public and private showed up a massive drop by 79.5% from the previous year.
Now all I want is to not get dejected by looking at these ugly numbers. It's better to know hard truths than been pleased by bluffs. There are so many opportunities for India to get back. For that we need to understand from the scrap what exactly is pulling Indian economy behind and what needs to be done exactly.
WHAT DO THESE NUMBERS ACTUALLY INDICATE?
1. "Gross Domestic Product (GDP) is defined as the total monetary or market value of all the finished goods and services produced within a country's borders in a specific time period. As a broad measure of overall domestic production, it functions as a comprehensive scorecard of the country's economic health." – Book definition
Now, the Indian GDP is falling for the last five consecutive quarters.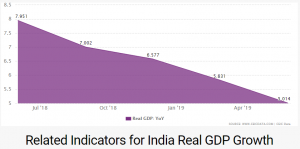 The current rate is 5% which itself is disheartening but question have been continuously been raised over the data and reputed economists like Arvind Subramanyam and Raghuram Rajan suspects that actual figures might be even 1-2% less. 
However, if we see GDP on a larger time scale we can figure out that the GDP of India in fact any country is not a constant number rather is cyclic throughout the fiscal quarters. And this effect is multiplied in India because of having huge diversity in markets.
It has been a little long time since the GDP is falling but we cannot conclude that India's economy is in deep trauma by just seeing dropping GDP.
2. Unemployment:
NSSO (National Sample Survey Office) report says that the nation in 2017 went to 45-year high unemployment rate @6.1 %, which in July 2019 touches @7.91%. However, Govt denies the credibility of the survey, following which two non-official members of National Statistical Commission (NSC), its acting chairman PC Mohanan and Mrs JV Meenakshi resigned. Now, this number is also cyclic with various seasons in India but such high % really puts a big question mark on the health of the current economy.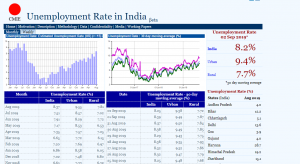 3. a.) Automobile Sector:
Many key sectors are not performing as they are expected. Most shocking numbers are of the automobile sector which has seen the highest negative growth rate in 19 years, last was @-35.6% in 2000.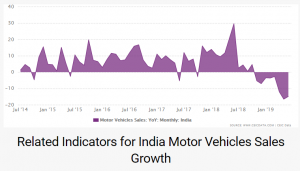 The sales have been on a decrease for the last 13 months (since July 2018).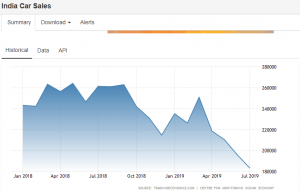 The Indian auto industry has a contribution of 7.5% to GDP and with a workforce of massive 37M, in both informal and formal sectors. The negative growth has made 2L job loss in the last three months only and projections say that shedding of up to 1M job in near months and quarters.
However, the auto sector was destined to this slowdown one day. It has its own reasons and other contributing factors too. 
The raising Global warming concerns have made both govt and consumers lose confidence in petrol and diesel automobiles. Electric Vehicles, on the other hand, finding it too hard to penetrate the market due to technical and infrastructural issues. 
But no one had expected such a sudden collapse, which indicates to some other contributing factor playing roles behind. Those factors would be explored as the discussion moves forward. 
b.) Manufacturing Sector:
This sector was growing at significant 12.1% in Q1 of the 2018-19 year and in Q1 of 2019-20 fiscal year, it has dropped to shocking 0.6%. This dip majorly comes from the auto sector slowdown as it comprises of 42% of it. Overall industrial production has dropped massively from the last year. This drop-in production is not due to lack of resources or the shortage of labour (either skilled or unskilled) but it is rather weird. The market has full reserves of various products but the sellers aren't able to find customers to sell them rather. Keep reading, the mystery of this slowdown will unfold soon.
c.) Agriculture Sector:
For decades agriculture has been the backbone of Indian Economy and still continues to be by providing a living for half of the pop. Literally, no one escapes from catastrophe if Agri is weak for a quarter or some. National Council of Applied Economic Research (NCEAR) a non-profit Delhi based economy think tank said in a report that as of August 2, 2019, 12 agro-metrological subdivision out of 36 in the country were rain deficient further adding that in 2019-20 the real agriculture GVA is expected to grow at 0.00%. If you didn't get the meaning than knowing the fact that we had 5 major and numerous small farmers marches across the nation in 2018 would help you understand the situation a bit.
Indian farming is under distress due to depleting water table, extreme climate and unpredictable monsoon, and declining productivity for decades. 
Crop prices are stagnant for years at minimal. Rarely farmers are getting more than what they put in, the declining rural wage is evident. 
The rate of increase in farmer suicide is haunting.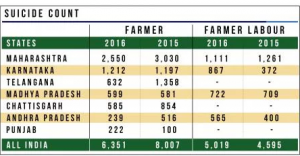 Listening to the stories of farmer protesting by carrying mice in mouths, skulls of their dead mate, and 100-year old fasting for over 40 days are things we must have avoided to happen, for the god sake.
It's pretty hard to understand why high profile figures died of personal problems find their way to be in the headlines for days but the 296438 farmers (1985- 2018) who chose to drink pesticide or something to kill themselves hardly find a space in the last page of a newspaper column even RTI activists have to struggle to get data only.
Published on 08 Jun 2018 in scroll.  

d.) Textiles:
The textile industry is the second biggest employer after agriculture with a total workforce of 100 M and contributes to 5% of our GDP. Thereby making India the largest cotton producer on earth. However, the spinning industry is struggling for a long time with profitability. The industry has shown a mere growth rate of 1.66% in this quarter. 
Now you might have thought that you visited the mall last time you didn't compromise on new clothes in any way. Then what wrong here!  
Export went 34.5% down this year quarter than the previous year's.
The NITMA (North India Textile Mills Association) was feeling neglected by agencies and thus used quite a weird approach to say their word. On 20 August 2019, they published an advertisement in a newspaper "INDIAN EXPRESS" to draw the Govt attention towards the severity of their current status.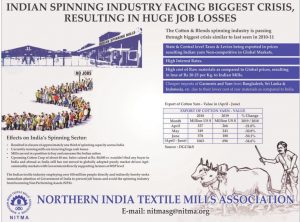 They claim that 1⁄3 of India spinning capacity is already closed and those which are running are also under great loss. And this newspaper clipping alone is enough to say a thousand words on the current coordinates.     
4. REAL ESTATE: 
Contributing to 13% in GDP and employer of 55 M. The real estate caters a spectrum of industries in itself from the on-site construction to brick, cement, steel factories. We have masons, plumbers, electricians, engineers, architects, builders, brokers and a range of other professions forming a massive chain of employment. 
And even this sector is not so profitable as far as past years and current situation are concerned. 
A report says: 
"Over 12.76 lakh houses are lying unsold in India's top 30 cities. The inventory overhang is as high as 80 months in Kochi, 59 months in Jaipur, 55 months in Lucknow and 72 months in Chennai, implying it will take between five and seven years for developers in these cities to get rid of the present housing stock."   
This industry is mainly in slowdown due to implementation of govt visionary reforms like RERA, GST and others. 
5. PFC:
Here is from where you can explain all the sectoral slowdown.
India is a nation of 1.32 B hearts, the market is huge, and thus the inland consumption contributes to 50% of the Indian GDP. Though the nation is not a mega exporter still our own demand drives the economy. We have 70% of the Indian population comprising of rural folks, and currently in a phase shift from low to the middle class. And this is from where major demand comes from. You won't expect huge continuous demand from middle-class society than from transforming rural low-class society. For example, when was the last time you saw someone purchase a new washing machine, fridge, etc in your society (located in a city). The answer is "a long time ago", and this is called the middle-income trap. 
Now you must have noticed how strong focus is laid on the agriculture and textile section in this post. The declining rural wages are forcing a large section of consumers to postpone their expenditures. Hence leading to the demand-side crisis.
Now the question is what actually happened to them?        
REASONS FOR THE SLOWDOWN
Demonetization: However, some reasons are deep below but the demo was the event that began the chain reaction. Banning of high value 500 and 1000 Rupees notes on 8 November 2016 sucked 85% of currency from Indian markets. With a multispectral vision to squeeze black money, to promote digitalization and to stop infiltration on borders the govt merely achieved any of its goals but surely the event triggered a sequence of mishaps that has taken an ugly face now.     
Farm prices began falling as the consumers were not able to buy the produce due to non-availability of cash.

Even though the demand was good in the market but demo had severely limited the ability of agricultural traders to buy produce from farmers.

Dramatically prices fall and farmers have to literally throw away the produce on roads.

This persisted for a long time and hence led to distress in agriculture sector triggering everything to come off track slowly.  

That 70% of the population we discussed earlier stop making demands, and slowdown began.
But what happened to the urban sector, why it is also slowing down?
The clue is in the auto sector slowdown. We saw how cars and 2- wheelers sales have fallen, but on the other hand sales of trucks and commercial vehicles have also fallen and quite significantly. This is evidence for the fact that demand has really come down magnificently hence the transportation resources are not required anymore. Even IR have seen a decrement in rail freight, a tribble and horrible sign. At this point the rural problem transmitted to the urban scenery.
Various industries started slowing down production and to maintain their economy began shredding jobs.

The casual workforce available in the market became abundant and competition turned fiercely.

Consequently, the wages rate of casual labour came down and major urban demand driver halts.

Completing the loop which will soon bring the whole economy on knees if the government doesn't take charge immediately.
THE GLOBAL SCENARIO:
Few parameters are determinant in indicating the status of the Global Economy. Let us have a look at some:
1. South Korea is a major exporter in the Asian continent products ranging from Electrical Machinery, Computer chips, Vehicles, Plastics, Medical apparatus, Iron, ships, etc have seen a dip since early 2017 and it is still declining @-13.6%. Which clearly indicates that the world is becoming a less open market.

2. Copper is used so ubiquitously from the household wiring to autos, TV sets, etc. The world's largest exporter of Copper- Chile has seen a dip in exports. Indicating the slowdown the whole world is impending to. With overall auto sector slowdown on a global scale as govt across the globe continues to ban diesel cars in cities consumption of copper have decreased.
3. JP Morgan's Global PMI (Purchasing manager index) tracker which show the health of manufacturing around the world, shows a declining graph from early 2018.

4. We are having big problems of extreme weather, climate change followed by nation backed cyber attacks and above all is a stand-off between the two nuclear states. These incidents give a whole lot of a reason for Global Slowdown. 
WHAT DOES RBI ANNUAL REPORT SAYS:
Since we have promised to keep this short so interested readers take their own efforts to go through the detailed RBI Annual report, which cover various aspects of current scenario more vividly.
https://www.rbi.org.in/scripts/AnnualReportPublications.aspx
GOVT STEPS:
MERGER:

RECAPITALIZATION OF BANKS:
(Under research, soon will be uploaded )
IN SHORT:
The numbers do indicate that the economy is in trouble but we need to be optimistic and we must not panic. The demonetization took a hard hit on the backbone of the Indian economy i.e. agriculture. The dropping rural wage has immediately stopped the demand in all sectors including the FMCGs. The rapid rolling out of visionary GST, RERA, IBC, NBFC, MERGER had somehow hammered the investor's faith and trust and had plotted a fear leading to the real estate slowdown. 
On the other hand, it is a stroke of awful luck that the global recession had coincided with our slowdown, which had a multiplier effect. 
THE CEV WAY FORWARD
Cutting the taxes on automobile sector might not make a major difference, instead, somehow the consumers are needed to be enabled to make demands, which is only possible if they have money in hands.

The Government needs to put its money to build rural infrastructure (roads, schools, shopping complex) by assigning the project to small localised builders in the region. Which will in turn not only directly put money in the hands of the 70% of the population but also increase the economic activity in those areas.

The 3000 Cr spent in constructing the statue would have been instead used for the renovation of rural public properties like roads, community buildings would have more beneficial in both the short and long term.   

MNREGA continues to languish and govt needs to focus to increase employment as well as wages. This will again be returned to govt as increasing economic activity will increase the tax collection also.
Various other fixes can be used to tackle this slowdown but we need to do a lot more to avoid such slowdown in future. The load on agriculture need to be less burdened. (The core reason of slowdown). There is an urgent need for massive employment. All of this is only possible if India pushes to become a manufacturing giant because the situation would have been diverted if we were good exporters. Manufacturing requires a rock-solid modern education system. 

We spend a mere 1.8% of GDP on education in an era when the world average is 5-6%. (This also include mid-day meal budget!)

We don't have any university or institute in world's top 300. IISc at 301.

Less than one percent of students in higher education level are research scholars, the majority are just pursuing a BA degree in Arts, history, etc to just become graduate. 

Stray animal walks into the classroom of nation's topmost engineering college.
The government needs to be very definite in rolling out anymore reform and have to work in some way to establish trust in citizens again. It needs to empower the rural folks and give oxygen to the economy by pooling some money in rural India. Simultaneously we need to work out old melodies also. Education, health, quality of life, etc. all of this matter in a nation building. 
Contrary to that the need of the hour is not just nation to develop individually rather the time requires all of the nations to play their crucial international roles. Global winds are challenging every economy around the world. WEF (World Economic Forum) reports say that 9 out of 10 economist expects the economy to worsen due to the rising geopolitical tensions. 
At this moment the world needs to hold each other hand tight and push for a little better tomorrow. 
FURTHER READINGS:
Thanks for reading.
KEEP READING, KEEP LEARNING
TEAM CEV!