Tronic Engineer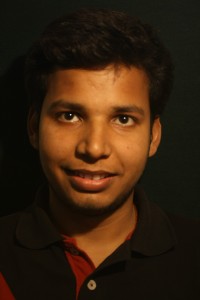 CEV TALK Hosted
Computer Architecture and Memory Organization
RESERCH INTEREST
Computer Architecture
Information Theory and Coding
Micro-Controllers and Micro-Processor
current research project
Designing efficient Algorithm for Data compression.
Solving out Day-to-Day problems in Innovative Way.
completed research project
 Low cost Water Level Controller (Rs 30) for Buildings and Industries which is capable of automatic on/off  of water pump in buildings.
MICROPROCESSOR 8085 DESIGN using verilog HDL  AT WEL IITB .
Data Acquisition and Storage In Environmental Monitoring device Envirobat  at CENSE , IISc Bangalore.
Designed MOSFET using TCAD.
software skills
  C ,  Java ,  Matlab ,  Multisim ,  Verilog HDL ,  Logisim ,  Embeded C ,  Assembly ,  TCAD.
expertise
MSP430 series Low Power Micro-Controller.
Verilog-HDL.
Digital Logic
contact details
Mob-   +918238747427
E-mail-  prashantpandey12345@gmail.com