Reading Time:
6
minutes
So, first of all, I want to share the motivation behind the topic. The Nobel prize of 2017 in Physiology (medicine) was shared by three American scientists Jeffrey C. Hall, Michael Rosbash and Michael W. Young for the discovery of molecular mechanism behind Circadian Rhythm.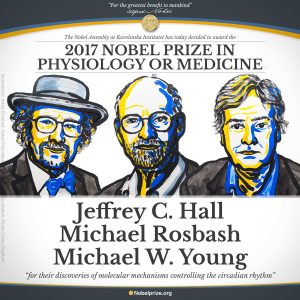 For introduction: Circadian Rhythm is phenomena that leads all biological process to display an oscillation of about 24 hours and work in sync with each other for optimum health. These rhythms are tuned by a circadian clock and apply to nearly all the organisms. In simple words, the routine of our anatomy is controlled by a body clock.
Here is the proof that the clock is genetically controlled :
There was an experiment in which a healthy adult was shifted to an underground apartment for 40 days to check whether he could maintain his sleep-wake cycle without the aid of sunlight or any external means.
Here is are the recordings of his sleep-wake cycle –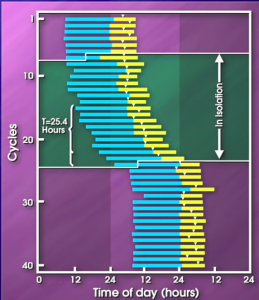 Blue represents wake and yellow represents sleep. As the days go on only sleeping timing moves towards midnight but the time period of sleep almost remain constant, hence it can be easily deduced that time-period of body clock is not altered by external factors, the time period remains close to 24 hrs. It has taken decade-long medical researchers to establish that genes control the circadian clock.
Here is what happens in our body to maintain sleep-wake cycle-
If it is assumed that the circadian clock rightly synchronized to earth day and night then it will make you go to sleep by 11 o'clock, will reach deep sleep by 3 o'clock and to anticipate waking body will begin warming up at around 5 o'clock, as soon as you wake up the hormone called melatonin hurtle down and stress hormone called cortisol will rise, brain will reach its peak performance time by noon, athletic performance get its peak in late afternoon and as evening sets the level of melatonin again begin to increase and by 11 o'clock sufficient melatonin is acquired to get a sound sleep.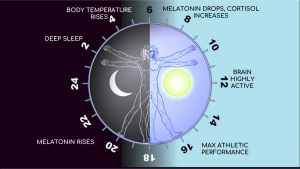 So humans and other organism developed their body clock in synchronization to day-night cycle i.e. 24 hrs as of our planet earth to anticipate daily life. Evolution of body clocks took place through developing adaptation to external stimuli of warm, bright days and cool, dark nights, through genes. And we all must be feel thankful for inheriting this life-sustaining feature by virtue of our primitives or past generations. In the coming part of the blog, I will prove to you how this gift can be taped to become the healthiest version of ourselves, maximize our productivity and do greater feats.
HOW GENES WORK?
Now every cell in our body has the 24-hour cycle and here is how it operates.
This video beautifully explains the molecular mechanism of the genes to run the body clock.
Till now we have an overview of how the circadian clock works now let's talk how do we relate this with our lives after all an engineer is far more interested in practical applications and theory behind.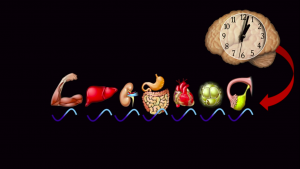 We have seen that the time period of this clock is 24 hours but point to be noted is that every organ in our body has its own cycle and work in sync with cycle of other organs to form a single system like blood supply to liver peaks in midnight during deep sleep, lungs gets its peak blood supply in early morning, large intestine in late morning, and so on, so what we need to take care is that this synchronization among organs of body system remain in harmony as they are very well subjected to external stimuli.
HOW LIGHT AFFECTS THIS SYNCHRONICITY?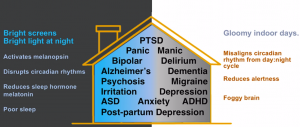 Basically the clock of our brain, the master clock, gets activated by blue light, if natural cycle is followed the blue color rich light of morning sunset melatonin to lowest, as the evening sets the natural light becomes less rich in blue and appears red and orange, for which our master clock has evolved to response by instructing to increase melatonin. Now problem is that most part of day-time we live indoors the light of which is not rich in blue color and brains receives a confusing signal, at night when we use our electronic gadgets blue light content is much more than outside hence again a confusing signal and hence melatonin is not controlled properly. If continued for longer duration give rise to problems like migraine, ASD, ADHD, Depression, etc. This is the reason why comps people get sleep late in night and these days devices, when operated at night mode, shifts its color to orange, eliminating blue. On the other hand, owls have evolved to respond differently.
HOW FOOD AFFECT SYNCHRONICITY?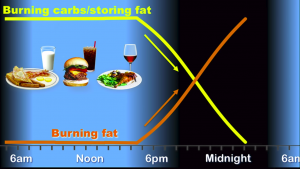 Normal functioning of the digestive system is as follows- during the day time our body runs on carbohydrates provided by diet and stores fats, at night time no carbohydrates input is there and hence body works on fat. Consider if you give carbohydrates to the body at late night then the body cannot burn the fats, hence chances of becoming obese are increased. The solution to this problem is that eat the same amount of food you generally do but avoid taking input late night, it will surely hammer on circadian rhythm by offsetting stomach from the sync with the system.
Now the last part of the blog, the healing power of circadian rhythm. So you must have noticed that the medicines prescribed to you are also instructed to be taken at a particular time of day. The circadian clock tunes the potency of every drug we take, so taking the drug at the instructed time of day can cure you as well as taking it at the wrong time can have adverse effects also. Schedule of flu shots, surgery of liver or heart, radiation therapy of cancer patients all these things depends on the time of day.
Conclusion: We can analyze that in earlier days human died due to diseases like malaria, dengue, chickenpox, polio, pneumonia, mumps, rabies, Ebola, etc. until proper sanitation, vaccination, and antibiotics came into existence, but now the scenario has changed. Now, most common diseases are chronic kidney diseases, asthma, hypertension, anxiety, diabetes, lung cancer, breast cancer, liver cancer, insomnia, bipolar, acid reflux, etc. These diseases are directly or indirectly related with our ignorant attitude towards our lifestyles and to be more precise hampering the Circadian Rhythm has bought this havoc to us.
In the end, thanks for time and patience and whole CEV team wishes you a happy Diwali.
Stay healthy, Enjoy reading!
Regards,
TEAM CEV.