Reading Time:
8
minutes
By- Anshuman S. Jhala
Many of us are having the desire of joining defense forces as an officer. After passing any defense exam that provides officer rank selection, then the next stage is the SSB interview. SSB stands for service selection board. I have come up with a short summary of the tests that are held at the selection board. SSB is one of toughest interviews of India. You will wonder to know that even many famous personalities namely, Shahrukh Khan, Amitabh Bachchan, Dr. APJ Abdul Kalam, Rahul Dravid, failed to crack the SSB interview but later achieved success in some different fields.

The key to success in SSB is honesty. The SSB works on some principle of Mansa, Vachan, and Karma that means what you think, what you speak and what you do must match. If you do your work with honesty, confidence, conviction and enjoy then no one can stop you. The candidate must keep in mind that selectors are looking for 'right' fit, not 'best' fit.
Indian defense is consisting of 4 services, Indian army, Indian Navy, Indian Air Force (IAF), and the Indian Coast Guard. There are, 3 selection centres for army – Bhopal (MP), Bangalore (Karnataka) and Allahabad (UP), 4 for Navy – Coimbatore (Tamil Nadu), Vishakhapatnam (AP), Dehradun (Uttarakhand) and Bangalore (Karnataka), 5 for air force- Dehradun (Uttarakhand), Mysore (Karnataka), Gandhinagar (Gujrat), Varanasi (UP) and Kanchrapara (West Bengal).
SSB is 5 to 6 days interview in which the OLQs (Officer Like Qualities) of a candidate are judged. The board provides facilities of residence, food to its candidates during the interview.
The test is done in two stages.
Stage 1 is conducted during the first day which is basically a screening test. It comprises of OIR (Officer Intelligence and Rating) test and PPDT (Picture perception and description test).
OIR is a basic aptitude test which is quite easy, but the time is kept shorter to judge the smartness of a candidate.
PPDT – This is the major part of the screening process. In this test, a blurred picture is shown to the candidates for 30 seconds. Then one minute is given to describe all the characters of the picture (Age, Sex and Mood) and action in the picture. After that 4 minutes are given to write a story based on the picture being shown. Then the candidates are divided into a group of 10 to 15 are made to sit in a semicircle in front of 3 assessors (GTO, Psychologist and Interviewing Officer) and asked first to narrate their stories, discuss the stories they have written and based on the discussion make a conclusive story which is to narrated by one of the group members.
On the basis of the performance in stage 1 candidates are selected for stage 2. The selection ratio is generally 1: 10 (may be somewhat more or less). The results of stage 1 are announced in the noon. The selected candidates stay at the center for stage 2 and the disqualified candidates are asked to leave.
Stage 2- Stage 2 starts from day 2. Firstly, a PIR (Personal Information Questionnaire) form is given in which all information related to education, family, lifestyle (hobbies, friends etc.)  from childhood to till date are asked. This form is to be filled with honesty and without any exaggeration as this may be kept with Interviewer during your PI and conference on last day
The tests conducted during stage 2 are –Psychological tests (TAT, WAT, SRT, SDT), PI, Group tests (GD, MPE/GPE, PGT, GOR, HGT), Lecturrette, Individual Obstacle, Command Task, Final Group Task and then finally conference is being held.
Psychological tests- They are under the supervision of a psychologist.
TAT (Thematic Apperception test)- This is quite similar to PPDT test, differs in the process. In this test 10-12 slides (including 1 blank slide) are shown one by one and candidates have to write a story based on them in a span of 3-4 minutes for each story. This test judges your attitude, positivity and your practical knowledge.
WAT (Word Association Test)- In this test, words are spoken by assessor speedily and candidate have to write the sentences on those words in that meantime (5-7 seconds). The pace is kept high so that the candidate writes the first sentence that struck to his mind after seeing that word. This, in turn, judge the thinking ability and maturity of the candidate.
SRT (Situation Reaction Teat)- In this test, each candidate is given a booklet containing 60 situations and the candidates have to write their actions for each situation in 30 minutes. This test judges the social behavior practical ability and range of thinking of the candidate.
SDT (Situation Description Test)- In this test candidates are asked to describe themselves in their own word. Questions are like- what do think about your friends? , what your friends/relatives/parents/teachers think about you? etc. This test judges your personality, nature, and maturity.
PI (Personal Interview)- It is of great importance in the selection of a candidate. PI is held between a high ranked officer of arms and the candidate. The length of PI may vary from 30 minutes to 90 minutes. The interviewer assesses you completely, the way you walk in, the way you speak, your confidence and conviction. The question asked by assessor may be anything either general awareness or personal life or situation test or knowledge about arms, etc.
Group tests- These are held under the supervision of GTO (Group Tasking Officer).
Group Discussion (GD)- Firstly the candidates are divided into a group of 10-15 and are made to sit in a semi-circle. GD is conducted in 2 parts- In the first part the GTO gives 2 topics both of day to day happenings but of different difficulty level, of which one is to be selected by the group and discuss on it for 15-20 minutes. In the second part, GTO gives another one topic on which discussion of the same duration is to be done. GD tests the listening skills, speaking skills, group adaptability and leadership skills of a candidate are judged.
MPE/GPE (Military or Group Planning Exercise)- A armed officer has to face many unforeseen problems, so one must be capable of dealing with such situations. In this test, many situations are narrated by GTO to the candidates and then the narrative is given to the candidates for 10 minutes to read the problems. After that, the solution of the problems is to be written by the candidate in further 10 minutes. GTO collects the sheets from candidates and are then asked to discuss the solution and provide a common solution to GTO. By this test the assessor judge that how the candidate is able to use his team and resources to find the most efficient solution.
Progressive Group Task (PGT)- This is first field exercise of SSB and is a group task as the name suggests. In this test some helping materials like rope, wooden log, plank etc. are provided to the candidates and the various rules like the color rule, jump rule, infinity rule etc. are explained by the instructor. The candidates have to perform the task in the given time interval and based on their performance, they are evaluated. This test judge the leadership skills, group adaptability, ability to take risks and positivity of the candidates.
GOR(Group Obstacle Race)- This is also a group on field task. In this task, candidates are divided into a group of 3-4 and are made to compete against each other. The GTO explains the rules and the nature of obstacle to the candidate. Each group is given a dummy snake(thick rope) which is to held by each member of the group during the race. The snake should not touch the ground. This also tests the teamwork of the candidates.
Half Group Task(HGT)- This is the final task of the group testing. In this task, the various groups are further divided into 2 or 3 smaller groups (4-6 members) so as to closely judge the leadership skills and teamwork of candidates. Apart from the smaller size of the group, this task is very similar to PGT.
Lecturette- The speaking skills of arm officer must be influential as there might be situations when it is required to motivate his team members and keep them enthusiastic. These skills are being judged by this test. In this test 4 topics of general awareness are written on cards in descending order of toughness. The candidate has to pick up a card, prepare in 2.5 minutes to speak on one of the topics for about 3 minutes. The tough topic is having a larger mark but even if you speak well on easier topics then also you will be evaluated in a better manner.
Individual Obstacle- This is an on-field individual task. This is a test to judge your fitness, stamina and your physical strength. In this task a number of obstacles are being provided like jumping over a slide, long jump, zigzag balance, high screen jump, Burma bridge, jumping through a tire, climbing the wall, Tarzan swing, commando walk, monkey crawl, tiger leap, rope climbing etc. Boys have to complete at least 10 and girls have to complete at least 7. The more obstacle you cross better will be you evaluated.
Command Task- In this test the commanding ability and use of manpower by the candidate are being judged. In this task candidates are made commander one by one, they have to opt 1 (or 2) helpers from the other candidates for performing the task as per the rules.
Final Group Task- This is the last test conducted in SSB. It is conducted to bring the candidates together into a team. This is also similar to PGT in rules and the nature of tasks. In this task, the time given is 10-15 minutes.
Conference- It is the last part of SSB and happens on the last day. In this stage, candidates are called one by one inside the conference room. In the room, all the SSB members including GTO, psychologist, and interviewing officer are sitted in a U-shaped format and the candidate is made to sit in front of them. The board asks some basic question from the candidates and discuss their performances with the 3 assessors.
After some time, the result is being declared. The selected candidates stay at the board for their medical test and if found medically fit, they are selected for the training.
I hope this short summary on SSB interviewing procedure will help the individuals who want to make their carrier as an army officer.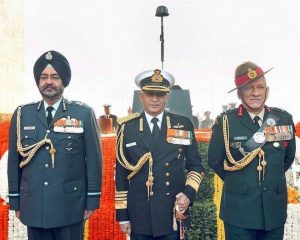 Thanks a lot for your precious time.
Keep Reading, Stay blessed!
TEAM CEV!