Reading Time:
7
minutes
It is not just the health of the masses that the coronavirus pandemic has hit, but almost all the aspects of normal life. Businesses, markets etc., are no different and have received a big blow. Profits plummeted, and most companies were pushed to run in losses making some companies bankrupt too. However, there were some businesses, startups that not only managed to stay afloat but thrived in these times of crisis. Innovation being a key to beat the covid blues. There was a myriad of opportunities for new-age startups and investors to tap into, given the rise in demand for a variety of services . A bull market is a term for the stock market when the securities rise, and a bear market is when securities fall for a sustained period. This blog focuses on those Indian based or originated startups, businesses, newly turned unicorns etc., who developed and flourished in this pandemic, when most of the economy was about to hit rock bottom, thus becoming bulls of the bear Indian market.
Healthcare 
Healthcare was an industry that constantly had hopes hooked to it in the pandemic. Doctors, nurses, medical professionals were the need of the hour. From the business point of view, pharmaceutical companies, telemedicine, online medical consultations etc., had profits jumping many folds. The startups that prospered in the healthcare sector were:-
Serum Institute of India:-

With net sales of INR 5,446 crores amidst the COVID-18, Serum earned a net profit of INR 2,251 crore. Or a net margin of 41.3%. Serum Institute of India the vaccine manufacturer that has become pivotal to India's recovery from this pandemic.

Practo:- Practo reported a 500% spike in online medical consultation under lockdown.

PharmEasy:- E-pharmacy is the most important e-commerce sector in this ongoing pandemic. Due to home confinement, people are finding it very inconvenient to get their prescriptions and over the counter (OTC) medicines, so instead, they switched to telemedicine like PharmEasy, Netmeds etc.
 Bioline:-

Based in Indore, Bioline India was founded by Neeta Goel and her late husband Rajeev Goel in 2001 to manufacture and supply affordable medical equipment to the masses. During COVID-19, the demand skyrocketed for this once slow-moving product.
Education
With schools shut down all across the globe, the education sector underwent quite a revolutionary state. The education system required expeditious reforms to avoid the education of thousands of students coming to a standstill. EdTech startups saw a boom in their market. Online classrooms and courses came to students' rescue. The businesses that burgeoned in the education sector were.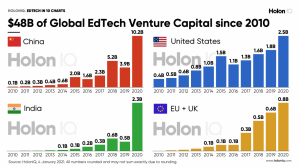 Unacademy:- Unacademy beat the pandemic to enter the prestigious list of unicorns in India. The EdTech firm raised around Rs 1,125 crore in a funding round led by Softbank Vision Fund 2 and participation from existing investors, including Facebook.

Byju's:- Byju's is one of the top e-learning startups of India, which is surpassing all its competitors and has become one of the few decacorns in Indian startup history after crossing $10.5 Billion valuations in the midst of this pandemic.

Gradeazy in Surat:- After their first startup had a false start in 2018, Surat-based Dishant Gandhi and Alok Kumar found a new opportunity to satiate their hunger for entrepreneurship with EdTech when the lockdown started, and all the schools and education moved online. The duo launched Gradeazy in June 2020 to enable educational institutes to conduct online examinations for just Re 1 per exam.
Media and Entertainment
With the freedom to go out and carry our daily routines being curbed, it was evident that people were going to turn to TVs and other platforms to while away the extra time in hand. The media and entertainment industry in India put up a great show in 2020.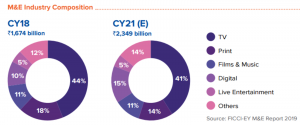 Dailyhunt:- News and content aggregator Dailyhunt has become

India's first tech unicorn focused on vernacular content

after raising $100 Mn funding from Google, Microsoft and Falcon Edge's Alpha Wave Incubation at a unicorn valuation.

 

Khabri:- In one of the newest startups, which was launched in October 2017, Khabri is India's first and the fastest growing digital audio platform. Khabri provides audio content in regional languages where anyone can create, listen or discover in the app. As a great initiative, Khabri has introduced the COVID-19 helpline for the visually impaired population of India as a massive outreach program.

According to Inc42 Plus, the media and entertainment sector received a total funding of $877.8 Mn across 85 funding deals last year, compared to $561.27 Mn in 2019, led by online video startups like SimSim, Trell and other TikTok alternatives.
NeeStream:- A popular OTT platform in South India. With several new films being released on the platform, NeeStream has been witnessing a rise in subscriber numbers.
Finance and Technology(FinTech)

Razorpay:- Bengaluru-based payments gateway

Razorpay entered the unicorn club in October

2020 when it raised $100 Mn in its Series D round, led by GIC and Sequoia Capital India. The funding round also saw participation from the company's existing investors, such as Ribbit Capital, Tiger Global, Y Combinator and Matrix Partners. 

Pine Labs:- Noida-headquartered Pine Labs became the first unicorn for the year 2020, after its corporate round in January, led by New York-based financial services major Mastercard.

Founded in 1998 by Lokvir Kapoor, Pine Labs provided its services to over 100K merchants in 3700 cities and towns across India.

Zerodha:- Bengaluru-based Zerodha was founded in 2010 by Nithin and Nikhil Kamath and offers stockbroking services. The company has claimed to have over a million active clients who trade and invest and is now valued at around 7000 crores or 1 billion approx.
E-commerce
A study showed that Indian e-commerce grew 84% in 4 years owing to the Covid-19 impact. When it was not possible to go out shopping, products were brought to individual doorsteps. A giant boom in local, national and international e-commerce startups is a testimonial to it.
Flipkart:-

Flipkart witnessed new user growth of close to 50 per cent soon after the lockdown.
Bigbasket:-Bigbasket has had a huge inflow of orders as more and more consumers are preferring to order essentials and groceries online amid COVID-19.

Bigbasket has added around 10,000 new workers to meet the massive influx of orders, which shows the shift to digital platforms in need of the millennium.

Custkartin Bokaro:-Custkart has its own factory near Bokaro that produces merchandise, and all the workers come from the nearby villages.
Miscellaneous
 Nykaa:-

Mumbai-based omnichannel lifestyle retailer Nykaa entered the unicorn club after raising around $13.6 Mn from its existing backer Steadview Capital. The funds were raised as part of Nykaa's Series F funding round. 

Cars24:-  Gurugram-based online used car marketplace Cars24 entered the unicorn club by raising $200 Mn in a Series E funding round led by DST Global.
Rooter:- One of India's biggest Sports community platforms, Rooter has raised $1.7 million (~ Rs 12.4 crore) in a pre-series A funding round at a time when almost all sporting activities have been seized across the globe. The Esports platform plans to capitalise on its upcoming Esports and gaming content and communities. Rooter engages its fans with user-generated live audio and video content. 
Gaming
Paytm First Games registered a 200% increase in user base.
After the ban on the popular Chinese short-video app TikTok under

69A of the IT Act

, its alternatives, including Trell,

ShareChat

,

Chingari

,

Bolo Indya

,

Mitron

, Roposo, Moj and Josh, among others, started gaining massive popularity and traction in the market. 

Games like

FAU-G

, Mask Gun and others emerged as alternatives for many users in India after

PUBG Mobile's ban

. 
Podcasting
India is witnessing an unprecedented boom in podcasts, and it is a country with 22 modern Indian languages and around 720 recognized dialects. The linguistic diversity in India is increasing the demand for the information available on various platforms in vernacular languages. With a growth rate of 33 per cent, the vernacular internet ecosystem in the country is thriving.
The pandemic has an impact on economies and businesses throughout the world and will keep doing so for even some time in the future. It is no doubt now that opportunities can be squeezed even from the most diabolical of times. The pandemic has proved to be both an edge or stumbling block for establishments and enterprises across the globe. 2020 was a year of crisis, and crisis is where innovation thrives. 
Keep Learning
Keep Hustling
Be the bear!!